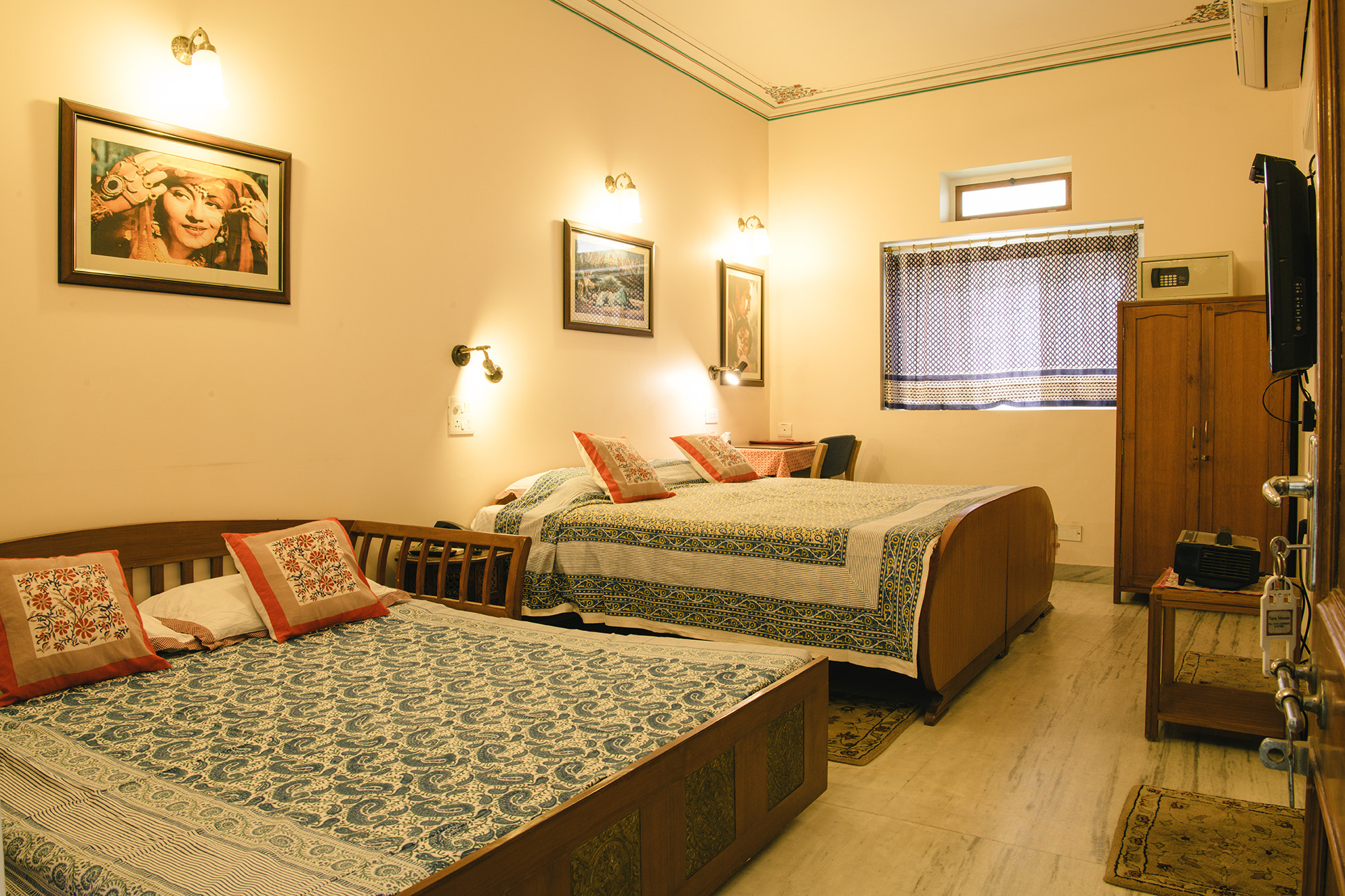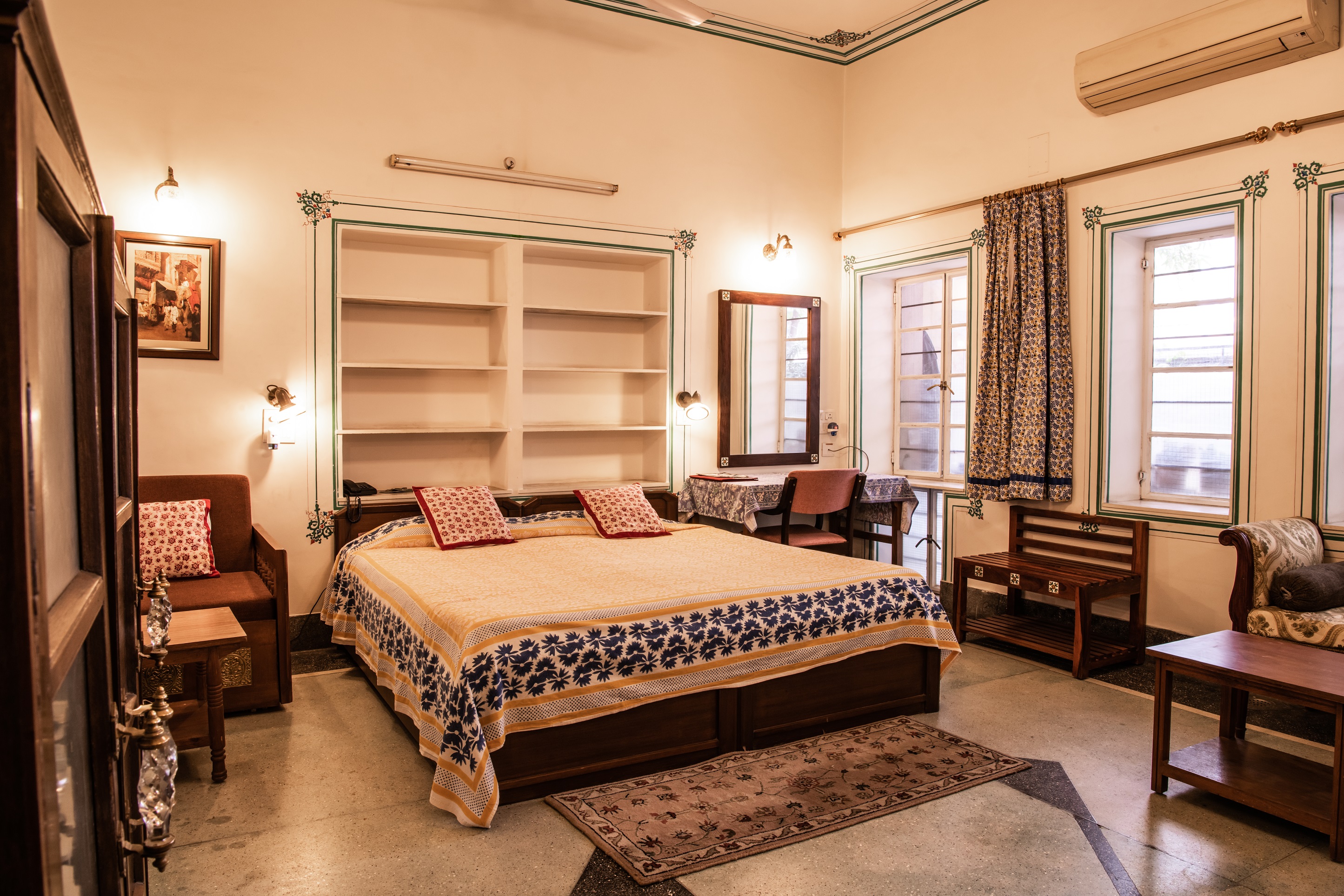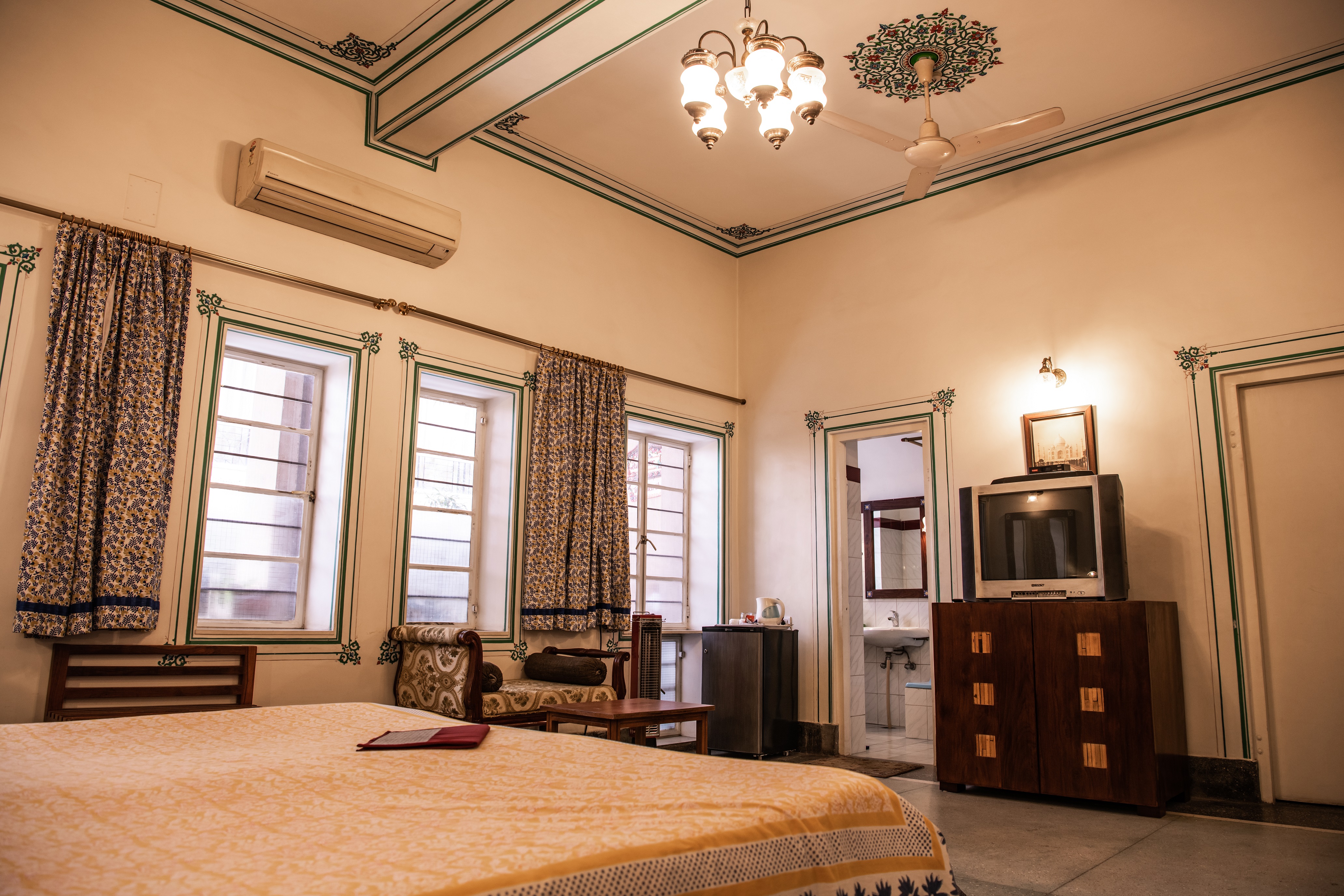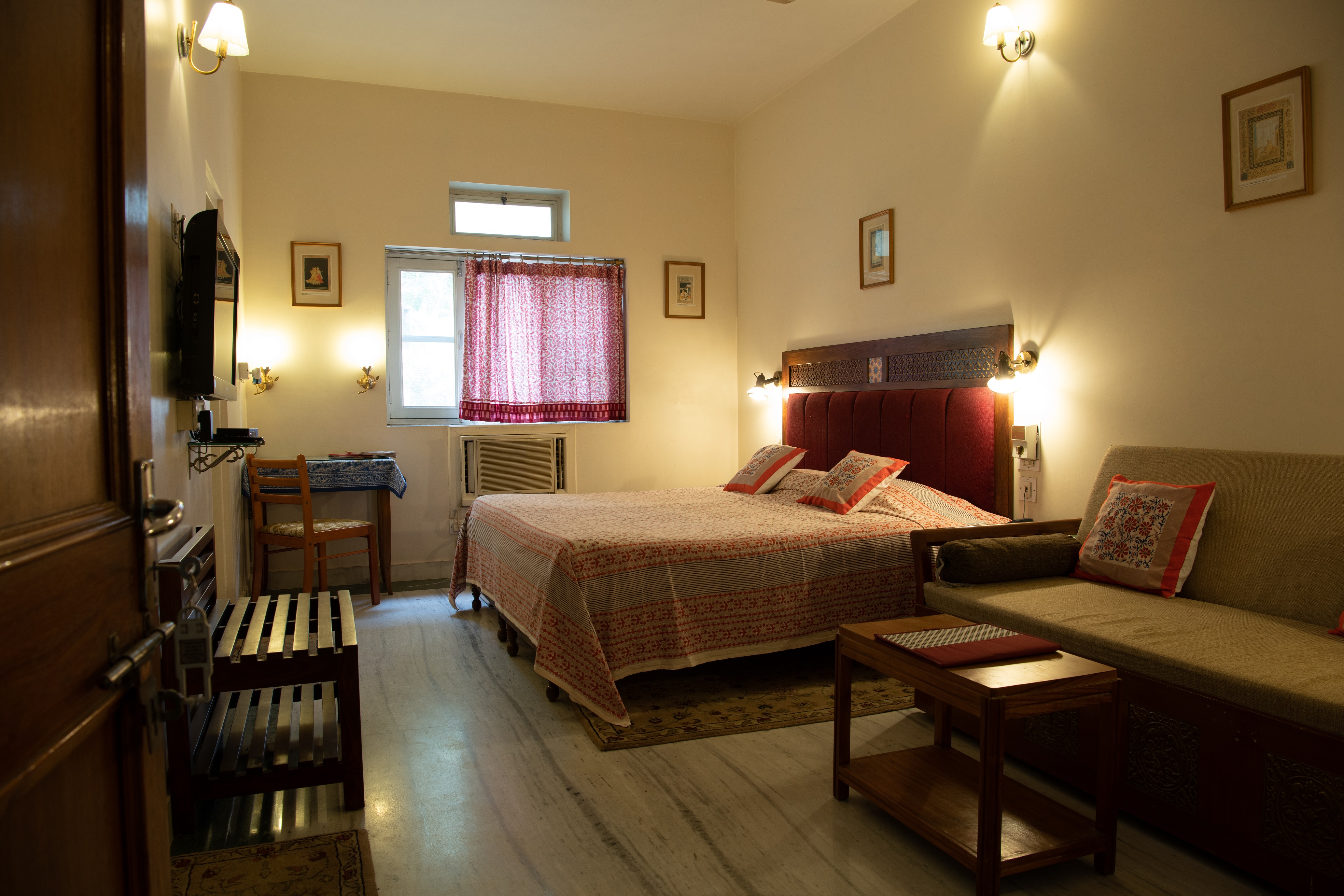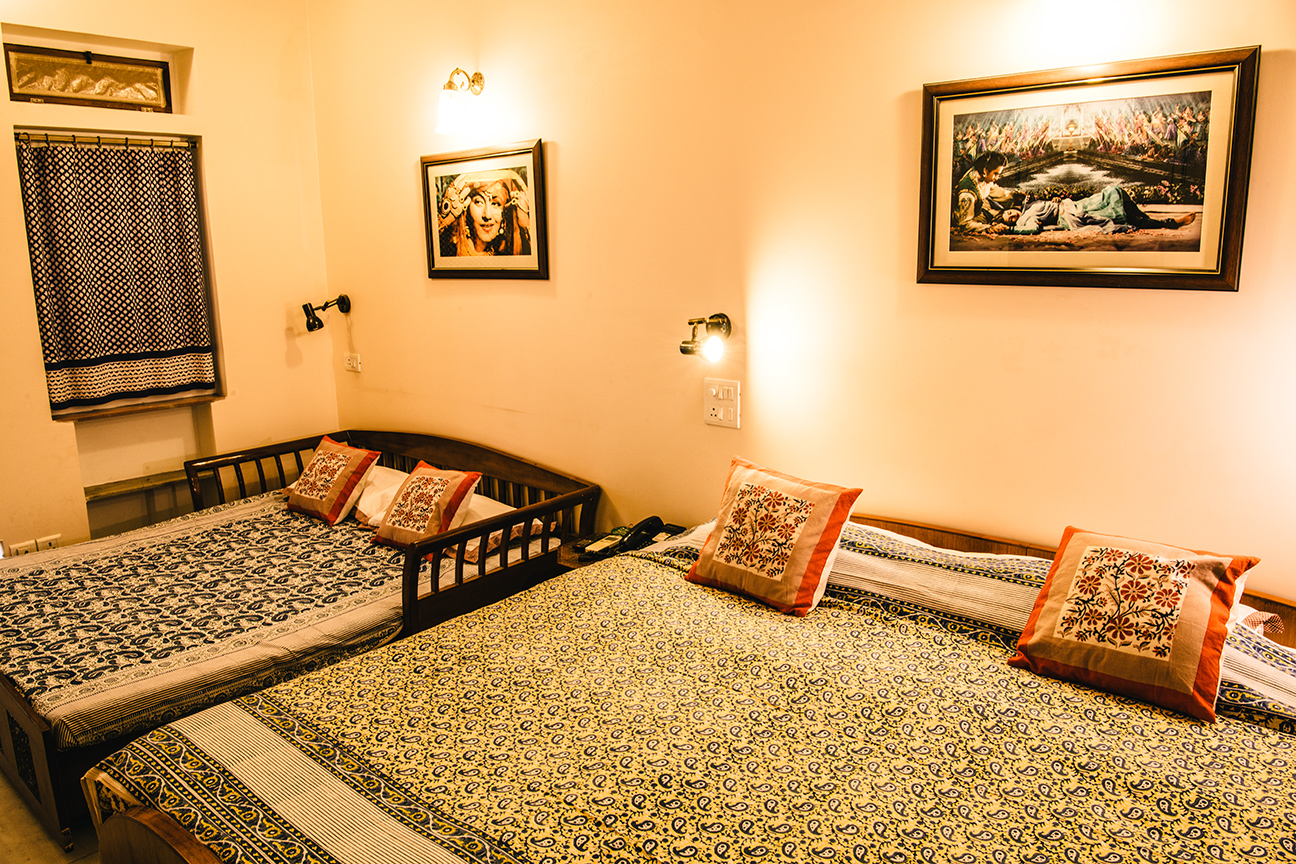 Large rooms ideal for a family of four at great value, our deluxe rooms have a separate dressing area/kitchenette!
Each room has a dressing area/kitchenette
Air-conditioning ( INDIVIDUAL ac unit for each room)
Writing Desk
Safe Deposit Locker
32" LCD TV with cable channels
Electric Kettle with tea / coffee making kits
Wardrobe
Luggage rack
Double sofa cum bed
Twin beds that can be joined together, each 36 inch by 78 inch
Telephone with direct dial facility for local/national/international calls
Over-head Shower / Bath tub, fridge, 24 hours running hot and cold water
Amenities Available on request: toiletries, yoga mat, iron with ironing board, newspaper, hair dryer, gas range, microwave, basic cooking utensils, crockery and cutlery.
Hotel Policy & Booking Conditions
Hotel Policy
Pets: Hotel needs to know if pets are coming with guest. There is an additional charge (includes separate bedding for pets). Guests will need to agree to hotel terms regarding pets, to make sure other guests are not inconvenienced and hotel property is not damaged.
Tara Niwas room rates are on room only basis, they DO NOT include breakfast, applicable taxes etc. unless so specified.
Rooms are generally available around 11 AM. We try to offer a room earlier as well, as soon as possible to guests, subject to availability.
Guest can choose to book from night before in case of early arrival.
Check out time is 12 noon, guests can ask the reception if they will like to extend check out time by 1 hour. Depending on availability we will be happy to oblige.
Drinking alcohol in public areas is not allowed.
Rights of admission reserved. Hotel reserves the right to give or not give room to a guest even for confirmed bookings, depending on guest behaviour and deportment.
We are a small family managed hotel, we request all guest to respect the privacy and comfort of fellow guests and follow hotel rules.
We hold bookings without advance till 2 PM, unless time of arrival is specified.
WE accept Visa, Mastercard, PayTm, GooglePay, UPI, cash for payments. We do not accept cheques.
Cancellation Policy
We do not need an advance for most bookings. On certain busy dates, and for group or travel agency bookings, we do ask for advance.
Complete advance is returned for individual guest bookings if we are informed 2 days in advance and for group bookings (more than 2 rooms) if we are informed 5 days in advance. If cancellation information is sent afterwards, there is no refund.
Photo ID required for all Adult guests as per Government of India guidelines
Guests need to carry a photo ID card.
For Foreign guests it is Passport with valid Visa
For NRI and PIO – it is Passport and PIO card
For Indian nationality guests it is AADHAR / Driving licence / passport / Voter ID/ PAN card is NOT a valid ID as it does not carry guest address
Ideal rooms for family

Best online price guaranteed
Click to book